How to change the port for vault connections
You may want to change the port for communication between the Private Cloud Vault and the Cibecs agents.
Changing a vault's port is a 2 step process. The below article will go through the steps to change the vault port in the vault configuration file and the front-end.
Configuration File Changes
Navigate to the installation directory of the Vault (Default is C:\Program Files\Cibecs\Vault)
In the \config directory open the application-prod.properties file in a text editor
Edit the server.port field with the required port number (Default is 9000) and save the file

You may be prompted to save the file in a different location, this can be bypassed by opening the text editor with administrative privileges

For the change to take effect the Cibecs Private Cloud Vault service needs to be restarted
Frontend Changes
Logon to your Endpoint Cloud tenant and navigate to the Vaults page
On the vault that you would like to change the port, click on the ellipses and select View

Change the Port field to the desired port that you would like to use, noting that it must be that same port number that was added in the application-prod.properties file
You will receive a notification to confirm that the change was successful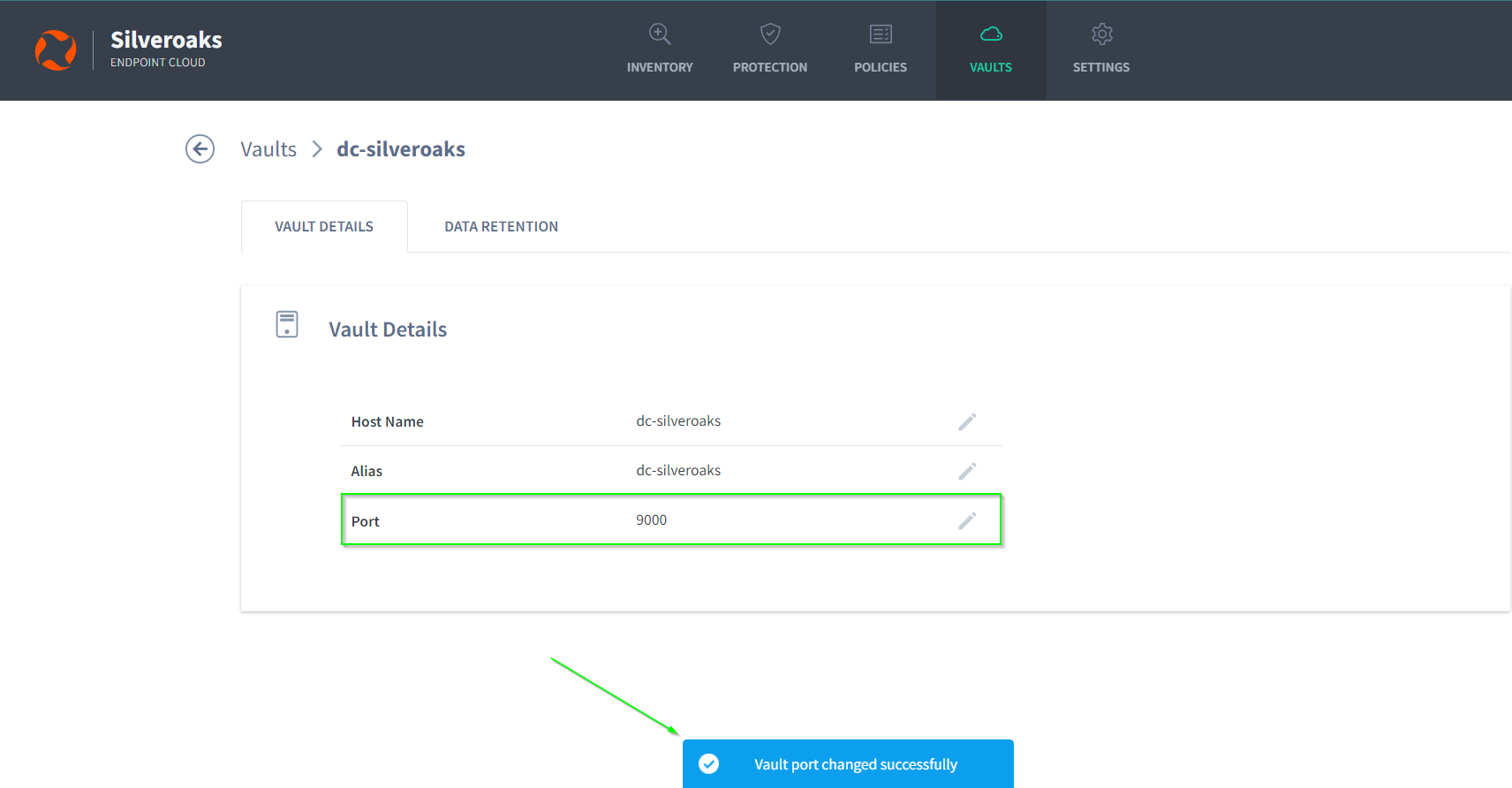 Tests
Confirm that backups are completing successfully after the change
Confirm that restores are completing successfully after the change
Troubleshooting
Ensure that there are no firewalls blocking your selected port

Third-party internal firewall or proxy
Windows built-in firewall on both the vault host and the endpoint

Log a support call with the following files included

The application-prod.properties file
The protection agent log file from the day before the change was made to a few days after the change was made (%appdata%\Cibecs\Agent\Logs\agent.log)
The Vault log file from the day before the change was made to a few days after the change was made (Default is C:\Program Files\Cibecs\Vault\Logs\vault.log)