Enable E-mail Reporting
Email reporting
Configuring daily system email reports.
How to identify the problem
Not receiving daily system status reports for specified system admin/s email address.
What caused this problem?
The specific email address that is supposed to receive daily system status reports has not been added on endpointcloud.
How do I resolve this problem?
In order to add the recipient email address, follow the below steps:
1. Logon to your Endpoint Cloud tenant
2. Navigate to the "Settings" tab
3. Once on the Settings tab, locate and click on the Email Report option at the bottom left-hand side.
4. Click Add Recipient. By default, this will include all the teams under the tenant. (You can select individual teams if required.



5. Final step is to click on the 'Add Recipient' button. This will add the specified email address and any subsequent reports will be delivered to that email address.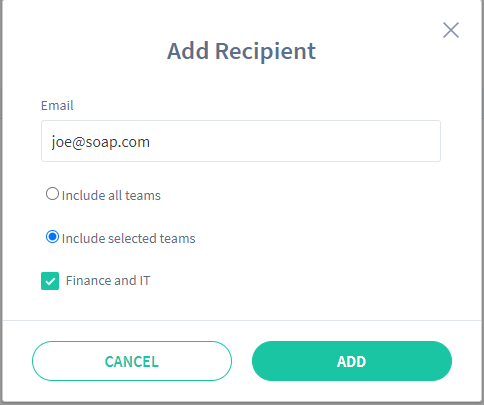 NOTE: You can also instantly email the current system status report by selecting Email Report instead. You will have two options: You can either instantly send the report to all the currently configured recipients, or specify a single email address.
Check if the problem has been fixed
1. System status reports are automatically sent out by the system at 2 am each day.