What are my options if the vault ran out of storage?
Answer:
There are 3 options when you find your vault in this state or close to this state.
Increase the storage volume on the vault server
Enable data retention and garbage collection on the vault
Register an additional vault and move a portion of devices to this vault
Increasing the storage volume on your private cloud vault server
You may want to speak to the relevant server administrator to assist with this task. It is best practice to stop the vault service before increasing the storage volume.
Enabling data retention and garbage collection on the vault
The default vault setting is to store all backup snapshots indefinitely. This means that all snapshots will be stored for all users forever.
If retention and garbage collection are enabled, then backup snapshots will be removed according to the GFS retention policy. A customer can decide to retain snapshots for a number of years, months, and days.
Note
Speak to Cibecs support to assist with the scheduling configuration.
Information
The retention user interface will be made available in the next major release of Endpoint Cloud. See preview: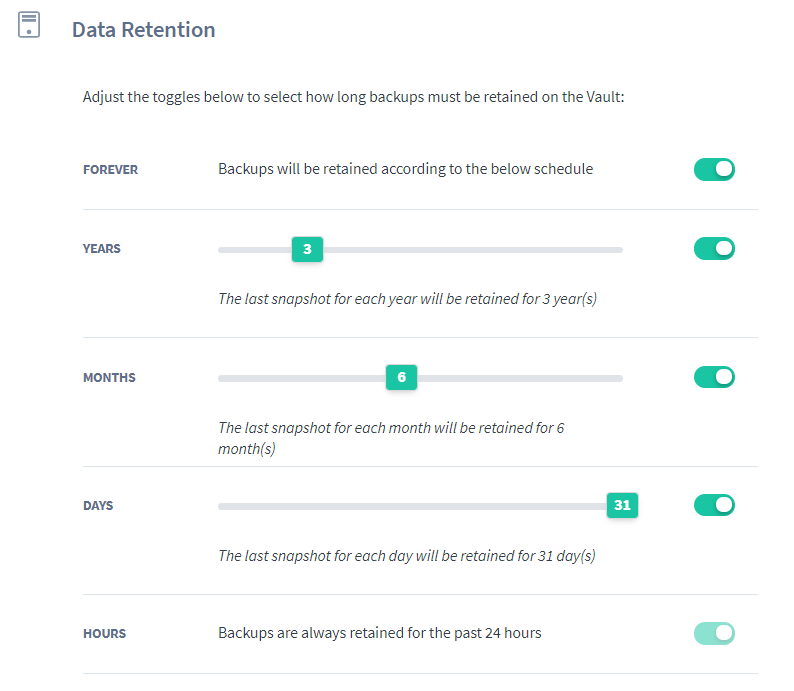 Register an additional vault
If none of the aforementioned options are viable, then you also have the option to register an additional vault and then move a portion of the devices to the new vault.
Important
Once a device has been moved to a different vault then the device will be deregistered on the old vault and retention will remove this data from the vault.